📚 Cluster Creator Kit Documentation
What is the Cluster Creator Kit?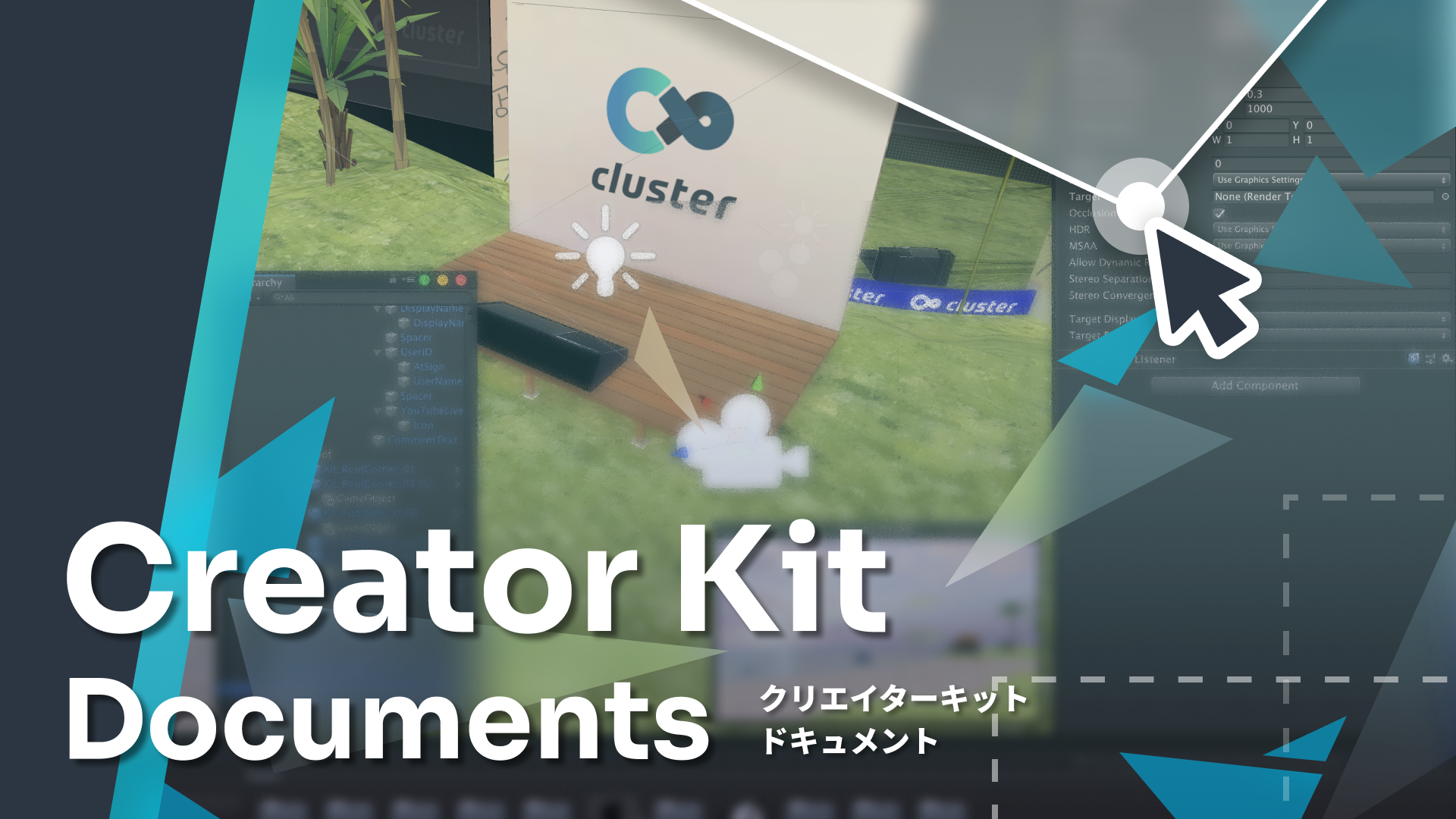 Build a virtual space with the Cluster Creator Kit, and you can experience it from various devices such as smartphones, PCs, and VR head-mounted displays through the cluster.
For more information about the cluster, please visit the following website
📚About this document
This document is an official reference that summarizes the basic usage and specifications of the Creator Kit.
Try to use the Creator Kit anyway.
You can use the template project to more easily start creating your game world.
Use the Creator Kit in your own Unity project
If you want to use the Creator Kit for your own Unity project, please refer to "Introducing the Creator Kit" and install the Unity package.
After you have finished the initial setup of the Creator Kit
Once you have finished the initial setup of the Creator Kit, read through the documentation on world creation and submit your world for real. Once you have submitted your world, you will be able to enter and enjoy it from your smartphone or PC/VR head-mounted display through the cluster application.
🔰 For beginners
If you are new to Unity, we recommend the Cluster Creators Guide. This site provides detailed instructions on everything from Unity installation to actual world creation. Let's try our hand at creating our first world!

💁 Content for Creators / Official Community Guide
Please refer to the next page for information dissemination from the cluster. This page summarizes information on official blogs and accounts that share tips and know-how for creators and provide the latest information.
Also, if you are already using the Creator Kit and want to communicate with other users and the cluster development team, we recommend that you join the official creator community.
About cluster SDK (previous version)
The cluster SDK, which was provided in the past, is deprecated for use after March 2020. The Cluster Creator Kit introduced in this document is the latest version of the Unity package for creating worlds with cluster, and is not compatible with the cluster SDK. We recommend using the Creator Kit for world creation.