Uploading a world
This section describes the procedure for uploading a world.
Uploading procedure
This section explains how to upload a world created using the Unity editor.
Step 1. Open the world (Scene) you want to upload
If you have more than one Scene open in the editor at the same time, only the active Scene will be uploaded as a world.
Step 2. Open the World Upload window
Select "Cluster > World Upload" from the menu.
Step 3. Login to cluster
You must have a cluster account to upload a world. If you do not have an account, please go to "New Registration".
Click the "Issue Token via Web" button in the "World Upload" window or go directly to the API Access Token page. Select "Create Token" and copy the generated token.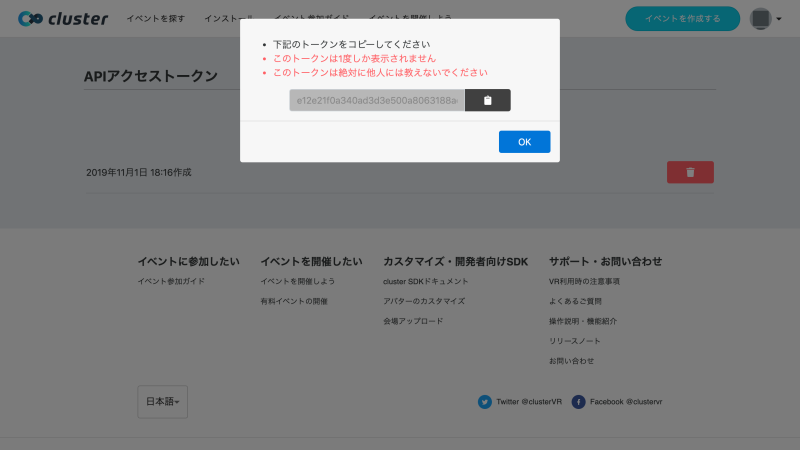 Return to the "World Upload" window and paste the token into the input field. Select "Use this token" and your login is complete.
Your logged-in user ID will be displayed.
Step 4. Add a new venue
From the logged-in "World Upload" window, select "World > Create New". A new world will be added, with nothing uploaded yet.
You can edit the "World Name", "World Description", and "Image" of the world you have created. The settings you make here will be displayed in the world list and world page.
Step 5. Upload your world (scene)
Select "Upload as 'World Name'" and select "Upload" when the confirmation dialog box appears.
The upload process is divided into three stages: 1) world validation, 2) switch and build for each platform, and 3) upload of the deliverables. The processing time will vary depending on the assets included in the project and the world.
If you see "Success" in each of the processing items in the "World Upload" window, the world upload is complete.
Known problem: The process may not complete unless you move the mouse cursor. If the upload process seems to stop in the middle, try moving the mouse cursor once.
This completes the uploading of the world.
The world you have uploaded is in a pre-published state and only you can enter it. For instructions on how to publish a world, please see the following article.